Expertise éditoriale
ABM : comment capter l'attention des comptes à fort potentiel ?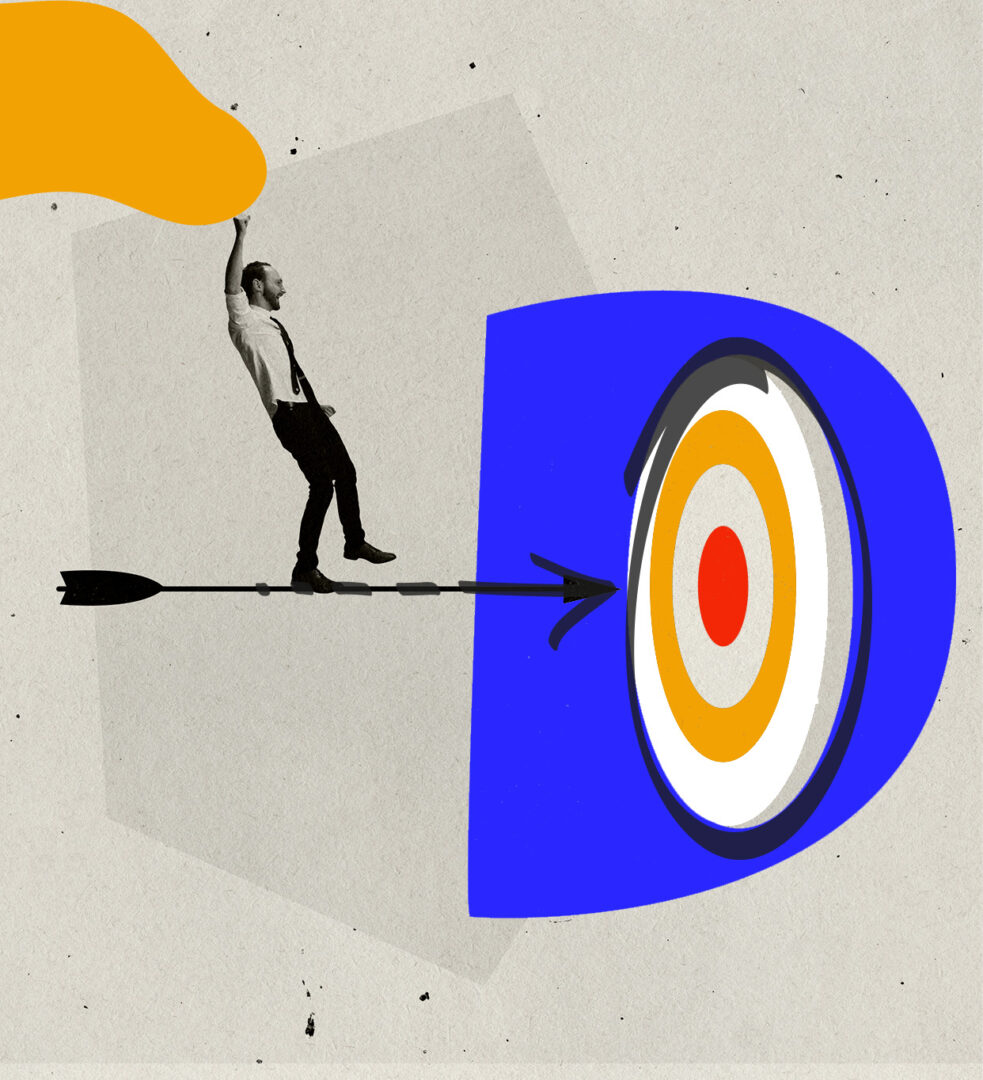 Comment une entreprise doit-elle s'adresser à ses "comptes clés" ? Comment capter l'attention des décideurs chez ses clients et prospects stratégiques ? Pour espérer obtenir des résultats, une stratégie ABM doit s'appuyer sur des données fiables et une bonne coordination marketing-ventes. Mais avant tout sur une ligne éditoriale claire et des contenus engageants. Un vrai défi, que je vous engage à relever rapidement !
C'est encore loin l'Amérique ?
En juin dernier paraissait le 1er baromètre français du marketing des comptes stratégiques*. Une initiative inédite en France et particulièrement bienvenue quand on compare l'Account Based Marketing (ou ABM) tel qu'il est pratiqué des deux côtés de l'Atlantique. Sans surprise, les Etats-Unis sont très en avance sur nous, comme c'est déjà le cas avec l'inbound ou le content marketing. 
Concentrer ses efforts sur ses clients et prospects les plus stratégiques – et donc les plus générateurs de business – est une activité largement répandue dans les entreprises nord-américaines. Dans le B2B, elle permet d'engager une liste restreinte de prospects – ou de se développer chez des clients à fort potentiel – grâce à des campagnes personnalisées, à l'opposé du marketing de masse pratiqué dans le B2C. 
Malheureusement pour nombre de marketeurs qui aimeraient s'y frotter, l'ABM démarre lentement en France et peine encore à convaincre les directions générales. Même si 55,3 % des entreprises hexagonales interrogées* déclarent avoir entamé une stratégie ABM, elles sont moins de 30 % à être satisfaites des résultats obtenus (et encore, en leur attribuant une note peu mirobolante de 6 sur 10). 
Pour autant, ce serait vraiment dommage de se priver d'ABM, sachant que plus de 96 % des spécialistes du marketing B2B déclarent** que l'ABM a un impact positif sur le succès de leur stratégie.
Alors, quels sont les ingrédients indispensables pour réussir sa stratégie d'ABM ? Voici, selon mon expérience acquise lors de campagnes d'ABM menées pour plusieurs de mes clients, les incontournables sur ce sujet.
Analyser ses data
Tout d'abord, il est impératif de vous appuyer sur une vraie démarche d'analyse de vos Data pour obtenir des données exploitables permettant l'identification des comptes potentiellement stratégiques. En d'autres termes, il s'agit de bien cibler ses comptes ABM, surtout lorsque l'on démarre dans cette activité. La qualité valant mieux que la quantité, ma recommandation est de se limiter à cinq comptes stratégiques la première année.
Identifier ses interlocuteurs
Ensuite, il s'agit d'identifier ses futurs interlocuteurs au sein des comptes stratégiques sélectionnés. Fonction, missions, périmètres d'intervention, pouvoir de décision, centres d'intérêts… Les techniques et outils du social listening B2B vous seront sans aucun doute utiles dans votre chasse aux infos. Et plus vous récolterez de renseignements sur vos cibles, plus vous passerez facilement à l'étape suivante : la création de contenus personnalisés. Du coup, où en sommes-nous ?
Créer des contenus hyper personnalisés
Produire des contenus personnalisés vous permettra de vous distinguer de vos concurrents, en attirant d'une part l'attention de l'écosystème visé par votre connaissance de ses enjeux sectoriels (ABM one to few) puis d'entamer directement le dialogue avec les parties prenantes au sein de chaque compte (ABM one to one). 
Dans le cas de l'ABM one to many, la personnalisation est moins poussée car les messages s'adressent à un nombre beaucoup plus important de comptes – jusqu'à plusieurs centaines. Surtout, l'investissement technologique est bien plus important car il nécessite la mise en place d'outils de tracking de type Reverse Ip et à minima de marketing automation. A n'utiliser que si vous disposez de moyens adéquates…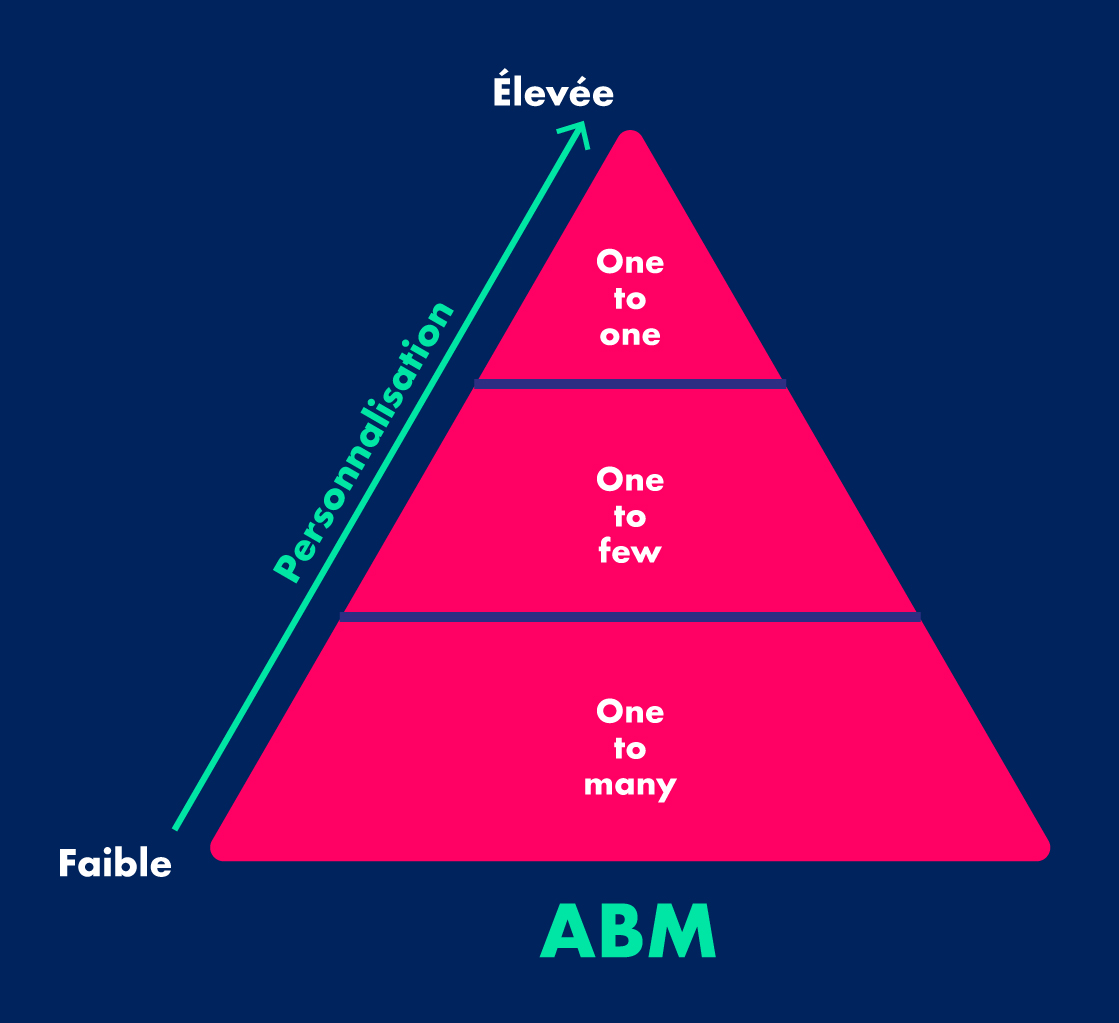 Bien entendu, toutes les techniques du content marketing s'appliquent à l'ABM. Simplement, elles sont hyper personnalisées. Par exemple, plutôt que d'évoquer "la transformation digitale en œuvre dans la banque-assurance", il sera forcément plus efficace de parler de "la digital workplace au service de la relation client chez BNP-Paribas". Tout l'intérêt des contenus personnalisés consiste à proposer à vos interlocuteurs – et futurs clients – une expérience individualisée qui maximise vos chances de conversion.
Multiplier les formats de contenus
Côté formats de contenus, toute la panoplie existante est à votre disposition, à condition de faire preuve d'originalité et d'agilité. Newsletter, articles de blogs ou d'experts, landing pages, Big Rock Content, vidéos, publicités ciblées sur les réseaux sociaux… constituent autant d'excellents leviers pour développer chez vos cibles de l'intérêt pour votre proposition de valeur (forcément personnalisée elle aussi). En augmentant la fréquence des messages et des points de contact, vous faites également en sorte qu'on ne vous oublie pas !
Aligner Ventes et Marketing
Enfin, le point à ne surtout pas négliger sous peine de faire s'écrouler tout le bel édifice : l'alignement Marketing-Ventes. Vos commerciaux doivent être les meilleurs ambassadeurs des messages diffusés vers vos comptes stratégiques. Les contenus d'ABM doivent donc impérativement être élaborés conjointement avec votre force de vente pour que chacun  puisse ensuite se les approprier, les relayer sur les réseaux sociaux, les commenter et être capable d'en parler de vive voix avec son client avant de passer à l'étape suivante… la signature du contrat. 
* Baromètre réalisé en juin 2021 par Winbound, La Poste Solutions Business et Nomination.
** Source : Demandbase, The Fundamentals of ABM
La ressource pour aller plus loin
L'éditorial pour mieux vendre
Vous avez encore
faim d'actus ?
Tous les mois, régalez-vous des dernières nouveautés marketing, directement servies dans votre boîte mail !